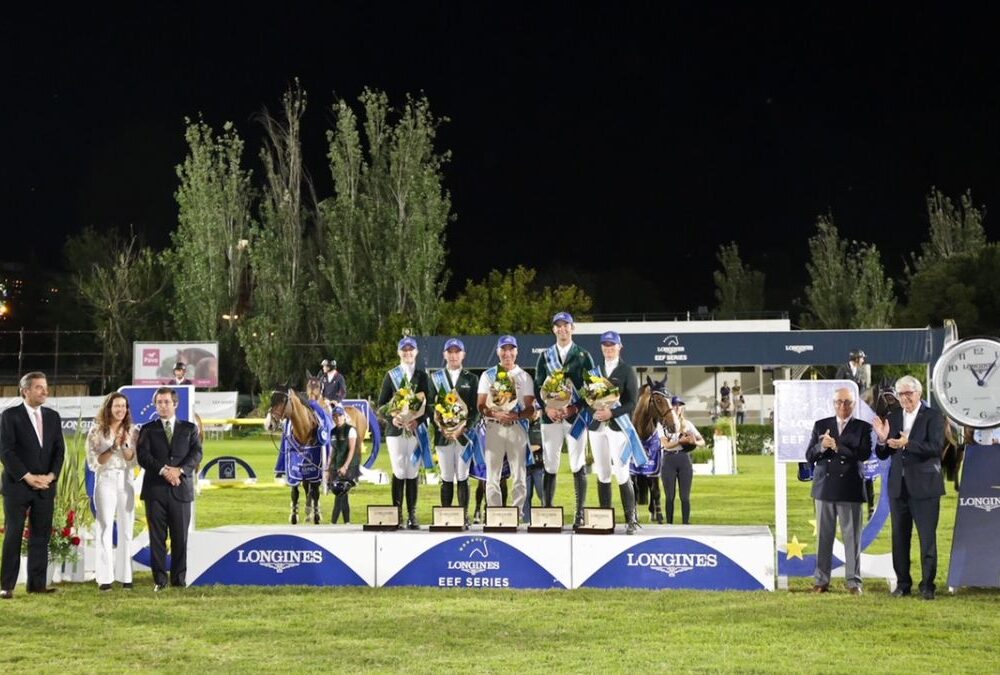 Ireland wins the Longines EEF Nations Cup in Lisbon
30 May 2022
The 100th edition of the Portuguese CSIO and fourth leg of the Longines EEF Nations Cup Series 2022 was won by the Irish team.
With Taylor Vard as chef d'équipe, the team consisting of Richard Howley riding Consulent de Prelet Z (0/0), Jessica Burke with Namamia (0/8), Under 25 rider Kevin Gallagher with Ballypatrick Flamenco (4/0) and Jenny Rankin riding Con Carmela Z (4/0) finished on four faults beating France and Spain into second and third place.
Ireland's success was the result of an outstanding second round. In second place behind France after the first round, thanks to their three clear rounds in the second round, Richard Howley, Kevin Gallagher and Jenny Rankin, Ireland moved up overtaking the French team.
Last but one to go, Jenny Rankin's faultless round proved decisive in putting all the pressure on French rider Olivier Perreau, who riding GL Events Dorai d'Aiguilly had two fences down handing victory to the Irish.
The large grass arena at the Sociedade Hípica Portuguesa, one of the most famous international show jumping venues, allowed the nine teams competing to also gain experience jumping on grass in an atmosphere worthy of the greatest events.
The track built by Portuguese chef de piste Bernardo Costa Cabral was fluid and allowed the horses to keep moving forward, a common element in the Seriesì courses, although also having a number of critical distances that required particular attention such as the line with the double just after the water jump that proved to be very selective.
There were only four double clears jumped, two of which by Under 25 riders: Richard Howley on Consulent de Prelet Z for Ireland, Belgium's Gilles Thomas riding Calleryama who celebrated in 24th birthday with this extraordinary result (he was born on May 27th 1998), Alex Matz riding Cashew CR for the USA and Brazil's João Victor Castro on Dispo Cece, born on July 3rd 1997.
The Lisbon leg is the first of the Region West group in the Longines EEF Series that has its second event next week in Madrid.
Photo:  Imagemedia / Nuno Pragana.