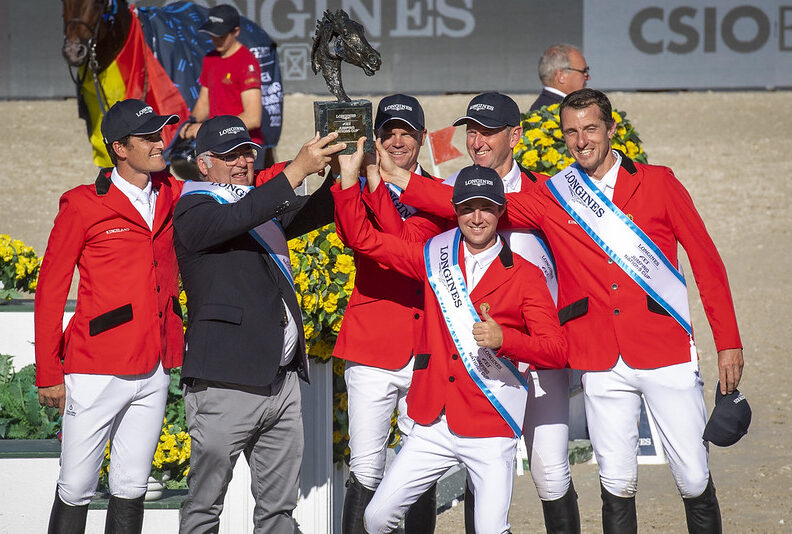 Brilliant Belgians claim Longines title and Olympic qualification
6 October 2022
Team Belgium enjoyed a perfect day today when not only winning the prestigious Longines FEI Jumping Nations Cup™ 2022 Final but also earning a qualifying spot for the Paris 2024 Olympic Games.
It was their third victory since the Longines Final was first established at the Real Club de Polo in Barcelona, Spain back in 2013. They came out on top in 2015, and then did it again three years later, but today's success was particularly sweet.
It was sealed by three classic clear rounds that left them as the only side on a zero scoreline at the end of the day. As anchorman Jérôme Guery pointed out "We were a little disappointed after Herning (World Championship) because we were good all season. When we came here we were determined to try to pick up the Olympic qualifying spot and the pressure was on us to the end, because to get that we had to win!"
They were locked in battle with a strong Swiss side who were also chasing that place in Paris in two years time, and after the first two rider rotations were completed there was a three-way tie between Belgium, Switzerland and France with each side carrying one four-fault result.
But only the Belgians kept a clean sheet in the final analysis, with Guery wrapping it up after brilliant runs from pathfinder Koen Vereecke and the 12-year-old stallion Kasanova de la Pomme and relative newcomer Gilles Thomas with his lovely 12-year-old mare Calleryama, while veteran team member Gregory Wathelet and his 14-year-old stallion Iron Man van de Padenborre dropped just a single pole for the discard score.
The French and Swiss both finished on a four-fault scoreline, France getting the nod for second place when less than three seconds quicker, while The Netherlands lined up fourth on a total of eight. Great Britain, Spain and Germany all finished with 16 on the board and slotted in behind each other in that order, while Ireland finished eighth and last on a total of 20.