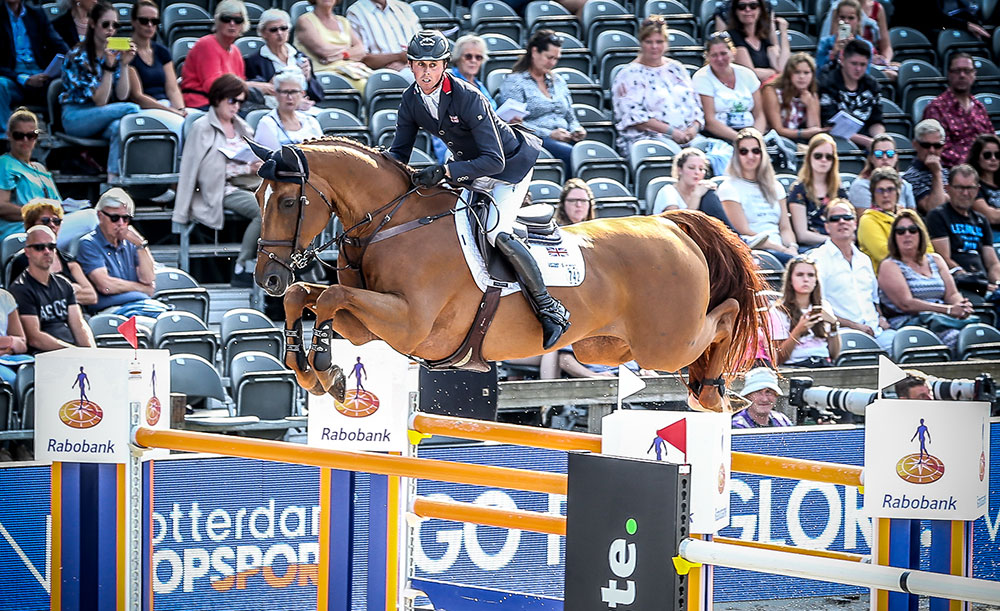 Clear rounds carry Belgians to top of Jumping team leaderboard
23 August 2019
In a thrilling second day of competition at the Longines FEI Jumping European Championships 2019 in Rotterdam, The Netherlands today, Team Belgium rocketed up from overnight eighth place into pole position when they were the only side to produce three clear rounds.
Dutch course designer, Louis Konickx, turned up the heat with a significantly bigger track, and from the 68 starters that included 9 individuals not competing in teams, there were only 11 foot-perfect runs around his 14-fence course.
The first-day leaders from Germany slipped to silver medal spot, the French dropped from second to fourth, and Great Britain climbed from fourth to overtake the third-placed Swedish side. And, adding to the heat of excitement, the battle for the three Olympic qualifying spots on offer also saw some shuffling with Belgium, Britain and France now well-placed going into tomorrow's medal-decider.
Germany looked set for another great day when reigning World Champion, Simone Blum, kicked off with another lovely clear from DSP Alice. But when Christian Ahlmann and Clintrexo Z hit both the vertical after the open water at fence 8 and the oxer at 11, and Marcus Ehning also double-faulted with Comme Il Faut, then they began to lose their grip. Despite a brilliant last-to-go clear from Daniel Deusser and Scuderia 1918 Tobago Z, they had to add one of those eight-fault scores to their tally.
Both France and Sweden added 12 and dropped off a potential medal position, but the British posted just the four picked up at the water by anchorman Scott Brash and Hello M'Lady, because Ben Maher (Explosion W) and Holly Smith (Hearts Destiny) made no mistake, so Amanda Derbyshire's eight faults (Luibanta BH) could be discounted.
Meanwhile the Belgians began climbing up the order with clears from both Pieter Devos with Claire Z and Jos Verlooy and Igor. They faltered with two down for Jérôme Guery and Quel Homme de Hus, but when Gregory Wathelet sailed home with their third foot-perfect run of the day they suddenly found themselves sitting pretty at the very top of the leaderboard because it's the best three scores per nation that count.
Britain's Ben Maher has moved up to pole position in the individual rankings ahead of Swiss star Steve Guerdat while Frenchman Alexis Deroubaix is lying third ahead of Germany's Daniel Deusser in fourth place. First-day leader, Sweden's Peder Fredricson, dropped to eighth with a fence down today, but he's only a fence off the leader, while in the team rankings there's less than a fence separating the top three nations.
Photo: Claire Simler. – Text: FEI press release