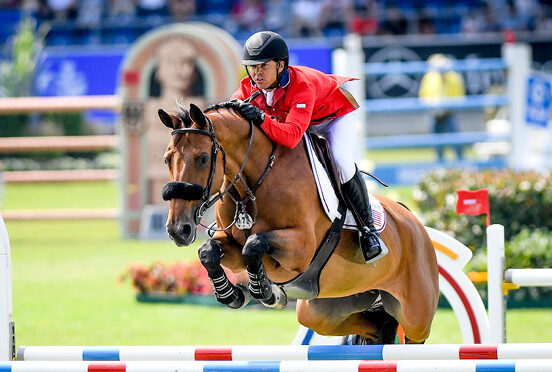 Congratulations to our Vice-Chair Robin Parsky
17 December 2020
Congratulations to our Vice-Chair Robin Cleary Parsky, owner of Gazelle, already elected International Equestrian of the Year by US Equestrian! If you're a member of US Equestrian, VOTE NOW FOR GAZELLE to elect the Belgian Warmblood mare (winner, among others, of the 5* Grand Prix of Aachen last year) as 2020 Horse of the Year!
Gazelle
2006 Belgian Warmblood mare Kashmir van Shuttershof x Diva 'Ter Elsen', Indoctro
Owners: Robin Parsky & Kent Farrington
Discipline: Jumping
Gazelle and Kent Farrington began their partnership in 2014, and since their debut, the pair has amassed an impressive record of wins and top finishes at many the most prestigious competitions in the world, including memorable and historic wins in the 2019 Rolex Grand Prix of Aachen, the 2017 International Jumping Riders Rolex Grand Prix of Geneva, and the 2016 ATCO Queen Elizabeth II Cup Grand Prix at Spruce Meadows, alongside numerous other CSI5* wins. Gazelle, a 14-year-old Belgian Warmblood mare (Kashmir van Shuttershof x Diva 'Ter Elsen') owned by Robin Parsky and Kent Farrington, anchors Farrington's talented string of quality horses.
In 2020, Farrington and Gazelle took home their biggest win of the year in the $213,000 American Gold Cup Grand Prix CSI4* hosted in Traverse City, Mich., where they outpaced 15 other combinations in the jump-off. The pair also finished on the podium in the $401,000 Fidelity Investments Grand Prix CSI5, placing second, and added a top-five finish in the $73,000 Equinimity WEF Challenge Cup CSI5 in Wellington, Fla.