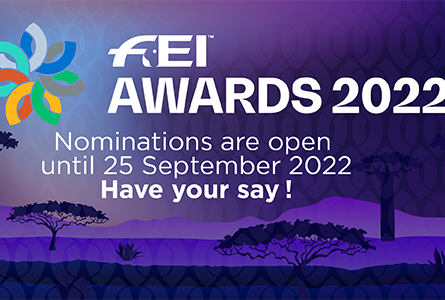 FEI AWARDS 2022 – Nominate YOUR heroes!
25 August 2022
It's that time of the year again where we need YOU and Your members! Let us know who really impressed you in 2022 by nominating them for an FEI Award.
These are the five categories:
Longines FEI Rising Star
Peden Bloodstock FEI Best Athlete
Cavalor FEI Best Groom
FEI Against All Odds
FEI Solidarity
To nominate YOUR heroes, you can simply click here:
Since 2017 the voting system is based 50% on the public vote via www.fei.org and 50% on the judges' panel, a hugely successful combination allowing us to receive over 100,000 votes every year since. And of course, this year, we have even greater targets to meet and will be promoting the shortlisted nominees EVERYWHERE.
In order to create maximum engagement around the FEI Awards and to ensure we have the very best nominees, we need YOUR help – Tell us who YOUR heroes are! Let us know who you believe deserves to be celebrated, from the champions in the arena to the rising stars and the incredible individuals and organisations backstage making it all happen.
The nomination phase closes on 25 September and you can nominate as many people as you want and in different categories at different times so please make sure YOU and YOUR members have your say!
The shortlisted nominees will be presented to the public vote from 06-16 October (worth 50%) and to an exclusive panel of judges (worth 50%). The lucky winners will then be flown to the FEI Awards Gala presented by Longines in the beautiful city of Cape Town (RSA), for an evening filled with glitz and glam where we will celebrate their achievements together.
You will find a detailed timeline as well as details on all the previous winners here.
Remember, by nominating a person (or an organisation), you not only make their day, you also acknowledge and reward their dedication to equestrian sport – and should they be shortlisted, you will actively raise their profile, their visibility, and with it that of the global equestrian community!
Don't miss out, have your say and give your heroes a chance!