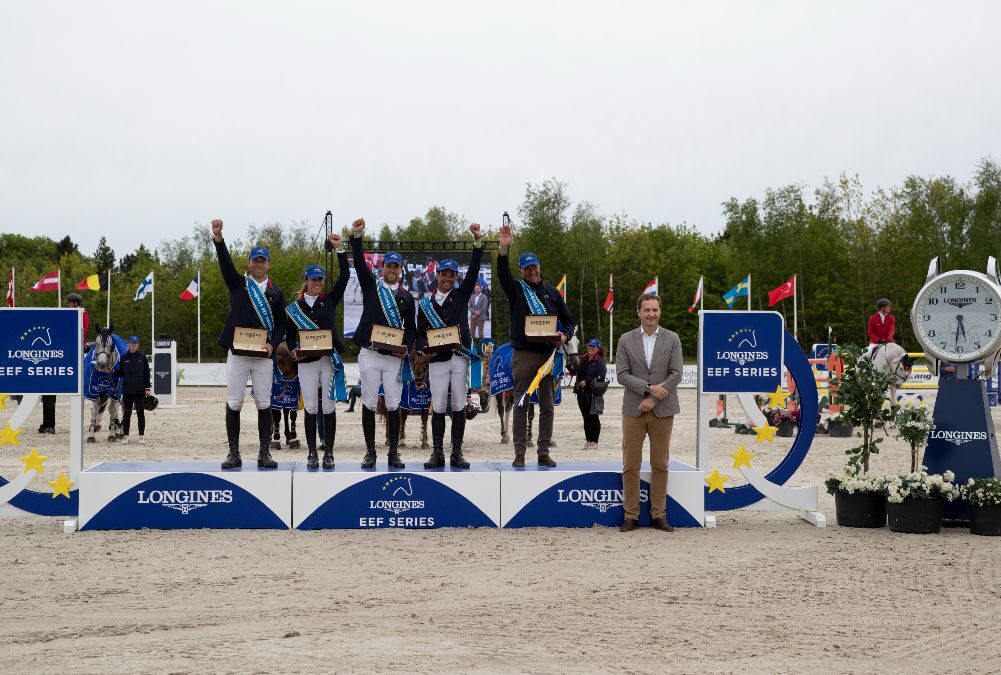 France and Germany win on double day of Longines EEF Series 2022
20 May 2022
Today, Friday May 20th, was a day of grand sport for the European Equestrian Federation with two legs of the Longines EEF Series (LES) in Aalborg (Region North) and Bratislava (Region Central) stealing the attention of fans in the show jumping world.
In these two events, there were many noteworthy performances by the under 25 "next generation" riders who are proving that they are increasingly competitive at top level shows such as those in the Longines EEF Series.
These were two competitions that emphasised how different locations can influence the tracks built and set different challenges, albeit following the same goals, allowing new horse and rider combinations now competing at this level to make progress. Aalborg, in fact, is a modern facility created specifically for sport with a large arena; while Bratislava was set in a natural setting with an arena built specifically for this occasion surrounded by trees and with often changing shadows.
Aalborg: the winner is France
After the first round for the Central-Region in Mannheim, it once again took a jump-off to declare the winner of the Aalborg CSIO3* Longines EEF Series (LES).
This time France, Japan and Denmark played the lead roles in a jump-off in which there were many clear rounds!
After the first two rounds, all three nations were boasting clean sheets, and they all jumped clear in the decisive third-round jump-off. The riders who returned to the arena for the jump off were Maelle Martin riding Bise des Bardellieres who stopped the clock at 36.41 seconds guaranteeing victory for France, with Japan finishing second with Eiken Sato and Saphyr des Lacs JRA (0/0/0; 36.69) and the host nation Denmark's colours defended by Linnea Ericsson-Carey and Skorphults Baloutendro (0/0/0; 40.13).
Ten teams competed in the Longines EEF Series Aalborg 2022 Nations Cup presented by Radisson at the modern facilities of the Helgstrand Event: Belgium, Finland, France, Japan, Lithuania, Norway, Poland, Sweden, Turkey and Denmark. Chef de Piste was Germany's Peter Schumacher. Five of the ten teams jumped clear in the first round: Sweden, France, Denmark, Japan, Belgium and there were twelve clear rounds in the two first rounds.
Germany wins in Bratislava
Meanwhile, in Bratislava, it was to be another jump-off to decide the winners with Germany, who finished second in Mannheim, winning the class with a team that included two Under 25 riders, Sophie Hinners and Cedric Wolf.
A leading role was once again played by Germany's 24-year-old Sophie Hinners, who made a big impact in Mannheim, riding her stallion Million Dollar and handed her team a win when she beat Irish rider Alexander Butler riding Eindhoven GH in the jump-off.
Germany and Ireland had finished the first two rounds on 4 faults with Switzerland finishing third.
There were seven double clears among the eleven teams competing (Austria, Belgium, Germany, Denmark, Hungary, Ireland, the Czech Republic, the Netherland, Slovakia, Slovenia and Switzerland) in a Nations Cup with courses built by Uliano Vezzani. These double clears included that of the young local her, 23-year-old Michaela Jeskova riding Incredible W.