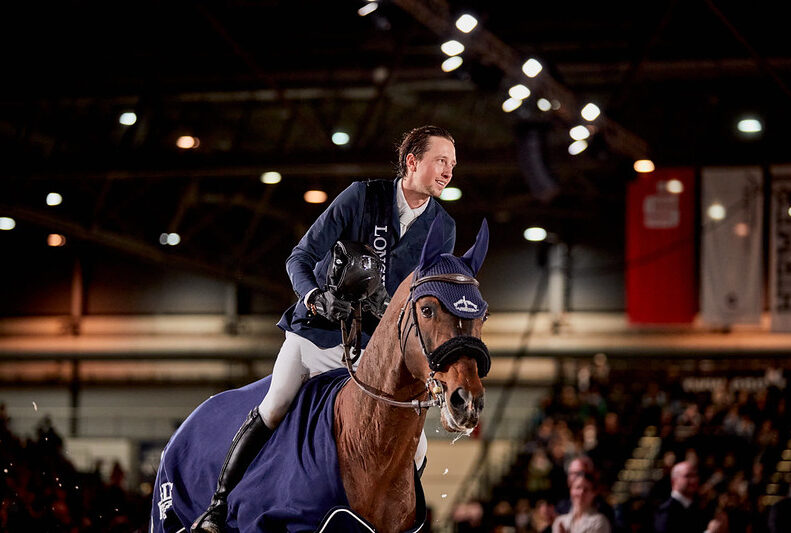 Fuchs flies to victory in nail-biting finale
10 April 2022
Switzerland's Martin Fuchs was rightly proud when standing top of the podium as winner of the Longines FEI Jumping World Cup™ 2022 Final in Leipzig, Germany today. He came so close to clinching the trophy at the last Final in 2019 when slotting in behind his compatriot and three-time champion Steve Guerdat, and as he said this evening, "I've been a couple of times second in Championships and you obviously have it in mind you could be second again with the best riders in the world coming after me today".
But in the end he, and his trusty steed Chaplin, were the only ones in the leading pack to stand firm in the closing stages. Chaplin gave him everything, and more, over two rounds of tough jumping in which only three of the 30 starters left both courses intact. And when Sweden's Jens Fredricson was one of those he finished third behind The Netherlands' Harrie Smolders who claimed the second step of the podium.
Held the lead
America's McLain Ward held the lead as the final day began, but a first-round error with Contagious left the 2017 champion vulnerable. He shared a four-fault tally with Smolders as the second round got underway, with Fuchs stalking the two of them carrying just five and on level pegging with young British star Harry Charles riding Romeo.
But a pole off the first element of the triple combination second time out saw Charles lose his grip and when Smolders' gelding, Monaco, clipped the following vertical then Fuchs was quickly moving up the order.
Ward had no leeway now when last to go, any mistake would see his advantage unravel, and when his 13-year-old gelding lowered the middle element of the triple combination and also the white planks three fences from home, Fuchs had it in the bag, becoming only the fourth Swiss rider in the long history of the FEI Jumping World Cup series to hold the trophy aloft.
He rode Chaplin in Thursday's first competition but swapped for The Sinner in Friday's second leg. "After having a rail down on Friday I wasn't so sure I had made the right plan. But then I was still sitting in third place so I thought two clear rounds with Chaplin on Sunday and we'll be on the podium.
"That I end up winning this prestigious and historical competition obviously is a dream come true. All the best of the best riders' names are written on this trophy and now to add mine is fantastic!" Martin Fuchs said this evening. He is the second member of the Fuchs family to win it, his uncle Markus Fuchs took the title with the brilliant Tinka's Boy back in 2001.
Full results: CLICK HERE.