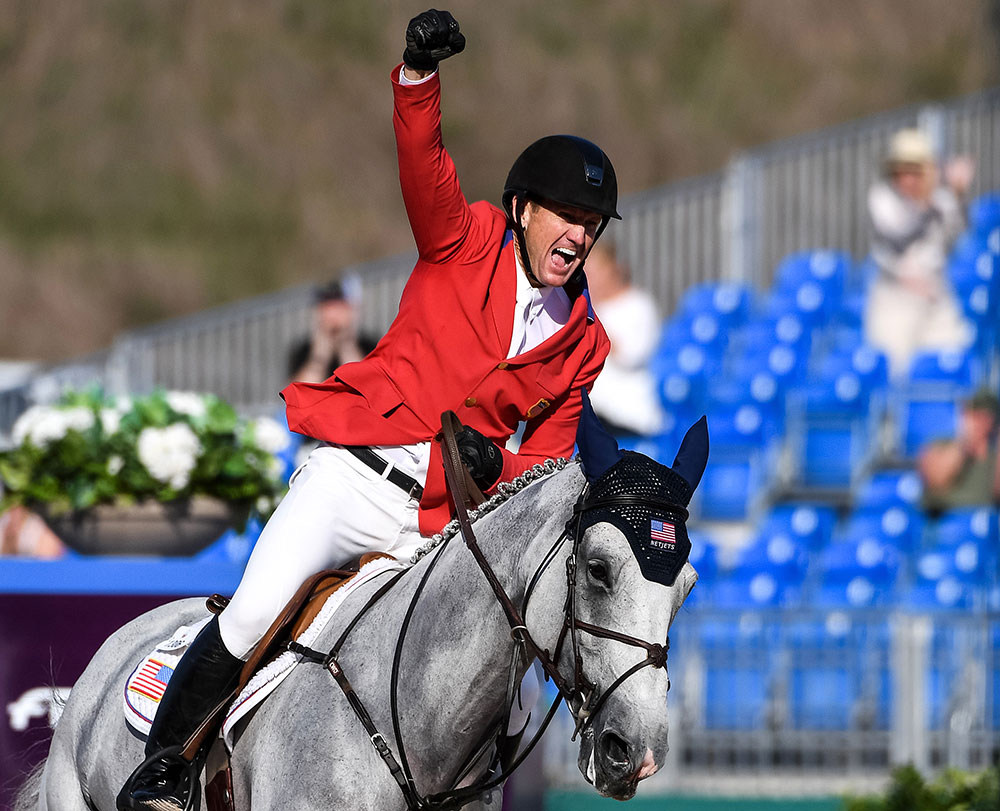 Tryon2018 – Team Final: USA in Gold on home ground!
22 September 2018
USA Team had to fight till the end against a strong Swedish squad but finally took over the title after a last jump off. USA is the new World Jumping Champion, Sweden taking Silver and Germany Bronze. The Jumping Owners Club wants to congratulate in particular Stuteri Arch, awarded the Owner of the Year trophy for 2017, and owner of H&M Indiana (Malin Baryard-Johnsson) and H&M Christian K (Peder Fredricson), both winning the silver medal, and Ruth Krech, owner of Prêt A Tout (Marcus Ehning), in bronze with Germany, both of them members of the JOC.
"It has been a very long three or four days and I take my hat off to Sweden," Ward said. "I didn't expect that charge from them today. I knew the situation. I had one fence down and then I knew I couldn't afford a time fault. I got a second opportunity in the jump-off. I wanted to go in and just do the best round I could. All the guys came through brilliantly and I am so proud to be American today."
"I love my horse so much, McLain has been the most unbelievable mentor for me, such an important part of my life, for me it's been a battle of overcoming my own mind and I'm so grateful that Robert trusted me and trusted McLain enough to put me on this team and to be with Laura and Devin and McLain, three riders I've honestly looked up to my entire life, I'm so grateful for this opportunity – it's been a wonderful day!" McLain's team mate Adrienne Sternlicht said.
Qualified nations for Tokyo 2020: USA, Sweden, Germany, Switzerland, Netherlands and Australia.
Medal-winning owners
GOLD
LL Show Jumpers,Llc (Eddie Blue, Devin Ryan/USA)
Starlight Farms 1 Llc (Cristalline, Adrienne Sternlicht/USA)
Old Willow Farms Llc (Zeremonie, Laura Kraut/USA)
Mclain Ward & Sagamore Farms (Clinta, McLain Ward/USA)
SILVER
GT Elite Scandinavia AB (Toveks Mary Lou, Henrik von Eckermann/SWE)
Stuteri Arch (H&M Indiana, Malin Baryard-Johnsson/SWE)
Fredrik Jönsson & David Ingvarsson (Cold Play, Fredrik Jönsson/SWE)
Stuteri Arch (H&M Christian K, Peder Fredricson/SWE)
BRONZE
Simone Blum (DSP Alice, Simone Blum/GER)
Paul Schockemöhle (Catch Me If You Can OLD, Laura Klaphake/GER)
Gerhard & Marion Müter (Don Diarado, Maurice Tebbel/GER)
Marcus Ehning & Ruth Krech (Pret A Tout, Marcus Ehning/GER)
Results