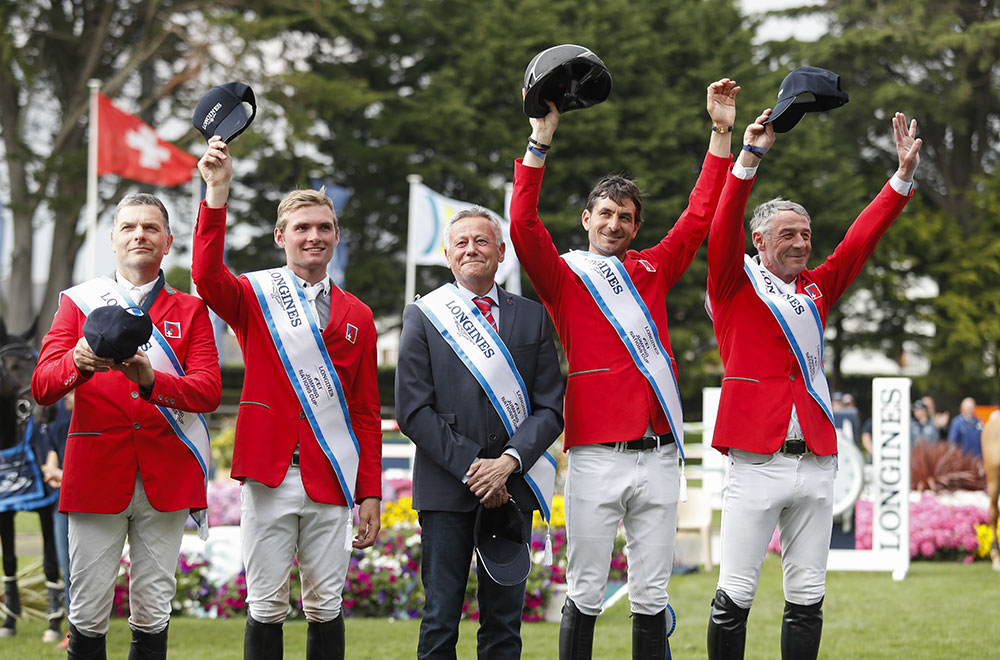 CSIO5* La Baule: a Swiss weekend!
21 May 2019
What a fantastic weekend in the magnificent stadium François André of La Baule! For the 59th edition of this legendary show, the public was still there, more than 12'000 spectators everyday to cheer the best riders in the world!
First of all, the Jumping Owners Club wants to congratulate and thank the organizing committee who welcomed the JOC Committee and the owners in general in such a nice way. This event remains one of the best show in the world, and is the perfect place to start the European Longines FEI Jumping Nations Cup circuit.
On Friday afternoon, 8 teams competed in the FEI Longines Nations Cup. Switzerland and Belgium finished with only 4 faults, closely followed by Ireland with 5. But on home soil, the French team drew the energy to post 3 clear in a row in the second round, annihilating the irish hopes to put a hoof on the podium. The final decision was to be made between Swiss and Belgium. After 3 riders, Belgium had taken a comfortable advantage, with only 1 time penalty. But current Longines FEI World Cup champions (and World n°1) Steve Guerdat and his amazing Bianca were last to go for Switzerland…and finished with a double clear. Gregory Wathelet, 4th to start for Belgium, had to jump clear too to bring his team through the jump-off. But MJT Nevado S had one down and all their hopes vanished, giving the victory for the second year in a row to the Swiss team.
After Saturday and the great success of JOC Member Emmanuèle & Armand Perron-Pette's Vestale de Mazure HDC in the spectacular Derby, the best 45 horses and riders competed in the Longines Grand Prix. Only 8 couples qualfied for the jump-off. The only 19-year-old British woman Amy Inglis has been the first to jump double clear. Most of the audience thought that the victory was promised to current Longines World N°1 Steve Guerdat and his fabulous mare Bianca, but World Individual Champion Simone Blum rode her beloved DSP Alice to a tight but real victory, crossing the finish line half a second ahead the Swiss star.
The JOC wants to congratulate all the owners who supported their horses and riders competing in La Baule, and of course especially the ones who won the Longines FEI Jumping Nations Cup: Trudy Graf (Cardano CH, ridden by Niklaus Rutschi/SUI), Sarah de Coulon (Clouzot de Lassus, ridden by Bryan Balsiger/SUI), Maria Traber (Lord Pepsi, ridden by Paul Estermann/SUI), Hofgut Albführen GMBH (Albfuehren's Bianca, ridden by Steve Guerdat/SUI), and Simone Blum, owner and rider of DSP Alice.
Next leg of the Longines FEI Jumping Nations Cup: from 30 May to 2 June in St. Gallen (SUI).
La Baule full results: CLICK HERE.