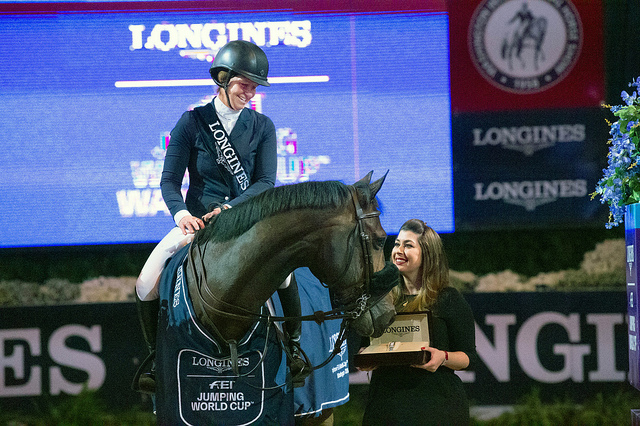 Longines FEI World CupTM Jumping: here is the Final!
1 April 2019
2018-19 Longines FEI Jumping World Cup circuit has come to an end. Ocala (USA) and Warsaw (POL) were the last qualifiers. Jaroslaw Skrzyczynski and Wojciech Wojcianiec will both represent Poland at the final in Göteborg (SWE) from next 3 to 7 April. Even if she was already automatically qualified for the final as defending champion, Beezie Madden (USA) finished top of the North American Eastern Sub-league.
894 competed in 16 different leagues accross 6 continents this season. Of course the Western European league brought a large contribution to this line-up with 151 riders, but North American Eastern and Western leagues gathered 165 participants, making North America the biggest entry of all.
The entries are now definite. 35 athletes from 18 countries will compete in the fantastic Scandinavium arena. Even if she was qualified, Edwina Tops-Alexander decided not to enter, as well as the recent winner of the 5* Grand Prix of Wellington, McLain Ward (USA), Molly Ashe Cawley (USA), Laura Kraut (USA), Lucy Davis (USA), Mattias Tromp (USA), and Richard Spooner (USA), what opens new slots for other riders, including the 21 times finalist Ludger Beerbaum! Beezie Madden, the defending champion brought only one horse, Breitling LS, while most of the European riders have two.
Here is the schedule:
Wednesday 3 April – 12pm: warm up.
Thursday 4 April – 6pm: Longines FEI World CupTM Jumping (round 1 – speed class).
Friday 5 April – 6pm: Longines FEI World CupTM Jumping (round 2).
Sunday 7 April – 2pm: Longines FEI World CupTM Jumping (round 3 – FINAL ROUND).
All the JOC Members wish good luck to all the owners of the horses participating to this Final 2019!
You can watch the warm up on Wednesday FOR FREE: CLICK HERE.
The 3 rounds will be available through FEI TV (subscription required).